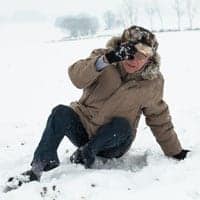 Winter in New Jersey often brings considerable amounts of ice and snow, setting up perfect conditions for slip and fall accidents. Such accidents often result in serious and sometimes permanent injuries. Whether you can recover damages for your injuries depends upon the circumstances of the slip and fall accident.
Property Owner Responsibilities
Property owners are responsible for keeping their premises safe. However, that does not mean the property owner or renter must clear all naturally occurring ice and snow at once. Regulations regarding sidewalk maintenance in bad weather differs, according to the municipality.
Some winter slip and fall conditions do not occur because of natural snowfall and subsequent snow and ice accumulation. For example, ice may build up on the roof, but drainage is insufficient, and the melting ice can refreeze on the walkway, causing a passerby to slip and fall. Perhaps the property owner does not have adequate lighting on site, and the person slipped in the parking lot or area in question.
Indoor Slip and Falls Accidents
Many winter slip and fall accidents do not occur outdoors, but happen inside when a property owner does not clean up slippery conditions resulting from ice and snow tracked in by visitors. Certain types of indoor slip and fall accidents due to slippery conditions may occur year-round, such as a supermarket that does not clean-up a liquid spill promptly or a business that does not warn customers that a newly cleaned floor is a hazard. However, if the business has posted warnings or roped off a slippery area and a person slips and falls, it is more difficult to prove liability.
Document Conditions
Because conditions change so rapidly, it is important to document the condition of the sidewalk, walkway, parking lot, or wherever the accident occurred immediately. If possible, take photos or videos with your cell phone. If you are unable to take photos due to your injury or lack of a cell phone, ask a friend or relative to come to the site at once and take photos. If there are witnesses to the accident, obtain their names and contact information. Write down the circumstances of the incident as soon as possible or dictate the story with your phone or similar device.
Slip and Fall Damages
A person injured in a winter slip and fall accident may recover compensation, known as damages, for the following:
Medical bills
Lost wages
Pain and suffering
If the accident also resulted in damages to personal belongings, such as the destruction of an expensive coat or the cracking of a phone or computer due to the fall, the victim may receive compensation for those items.
Egg Harbor Township Personal Injury Lawyers at the D'Amato Law Firm Help Those Injured in Winter Slip and Fall Accidents
If you or a loved one was injured in a winter slip and fall accident, you need the services of the experienced Egg Harbor Township personal injury lawyers at the D'Amato Law Firm. Call us today at 609-926-3300 for a free consultation or contact us online. Located in Egg Harbor Township, we serve clients from the surrounding areas, including Atlantic City and South Jersey.